Clinician
Advocate
Academic
Educator
Meet Dr. Sandip SenGupta
Sandip is a clinician, educator, academic, and advocate for regional health systems transformation. He currently serves as the Laboratory Medical Director and Deputy Head of Pathology at Kingston Health Sciences Centre, and Professor of Pathology and Oncology at Queen's University.
As a leader in Pathology and Laboratory Medicine, Sandip works at the heart of the healthcare ecosystem. He believes there is enormous value in laboratory innovation and champions the role of lab medicine in seamless, patient-centered care.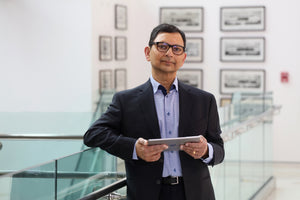 Testimonials
"I wanted to thank you for so much for speaking at both our events. We had an overwhelming positive response from the attendees."

Marla L.
We truly made the best choice in the world working with you and your team to support the group here and help them excel. All great people! ... Excellent turnaround time... Great to have access to subspecialty AP, HP, Micro, etc. I will continue to celebrate our successes every time I speak at our MAC, KHSC, and Ontario Health Team Meetings!

Dr. R. Malone, Chief of Staff, Brockville General Hospital
"A shout out to Dr.Sengupta @SenGuptaDr for his leadership @KingstonHSC Labs. He has been a champion of optimal test utilization #choosingwisely campaign..."

Sonal Varma MD @SVarma_Queensu
Stay connected, subscribe to my newsletter